The University of Manchester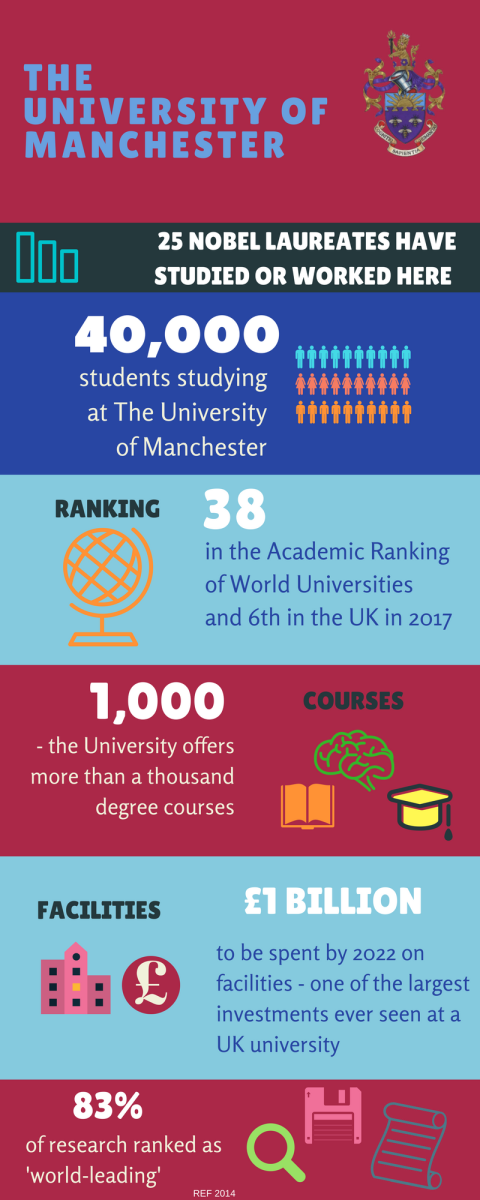 The University of Manchester is the UK's largest single-site university. This is a place where research has a global impact, where students experience outstanding teaching and learning, helping them to develop into tomorrow's leaders, and where all activity is enriched by a commitment to social responsibility.
Manchester was the first and most eminent of England's civic universities, sharing in the city's pioneering spirit, Rutherford split the atom here, and Williams and Kilburn developed the modern computer. Today, the University is part of the prestigious Russell Group of UK universities, with an international reputation for the highest level of research and teaching, as demonstrated by its position in the 2017 Academic Ranking of World Universities: 38th in the world and 6th in the UK.
During our history there have been 25 Nobel laureates that have studied or worked at the University. In fact, there are two on its current staff: Professors Andre Geim and Kostya Novoselov (both Physics).
More students study here than at any other UK university. In 2017 there were almost 40,500 students studying at Manchester, of whom 27,900 are undergraduates, 9,000 are postgraduate taught and 3,600 are postgraduate research.
And all students are able to participate in Stellify. This is a select package of activities containing some of the University's most exciting and transformative student experiences, in order to help them develop the distinctive attributes that place Manchester graduates consistently among the most sought-after by the UK's top graduate employers (according to High Fliers Research). Through these activities, students can work towards a prestigious University award.